The Web Awards are different to many awards because we ask more of our sponsors than other awards. We like them to interact, to come along, to talk up the nominees and if needs be, to scream and holler during the event. As mostly voluntary run, we need all the help we can get and sponsors help with the pushing.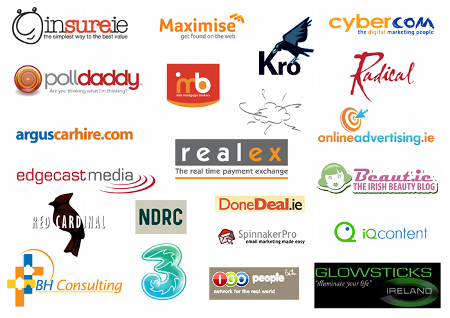 So a big thank you to Realex Payments the headline sponsor and then to the category sponsors too:
Best Online Publication – sponsored by Maximise
Best Radio Website – sponsored by IGOPeople
Best Podcaster – sponsored by 3 Ireland
Best Videocaster – Sponsored by Irish Mortgage Brokers
Best Sports Site – sponsored by ArgusCarHire.com
Best Music Site – sponsored by Poll Daddy
Best Entertainment Website – sponsored by Radical
Best Arts Website – sponsored by Brennan Sabatini
Best Technology Site – Sponsored by BH Consulting
Best New Web Application/Service – Sponsored by Red Cardinal
Most Innovative Website – Sponsored by iQ content
Best Social Media Campaign – OnlineAdvertising.ie
Best Discussion forum – sponsored by KRO IT Solutions
Best Education and Third Level Website – sponsored by National Digital Research Centre
An Suíomh Gaeilge is Fear – sponsored by Edgecast Media
Best eCommerce / Services Website – sponsored by Cybercom
Best Practice – Sponsored by Spinnakerpro.com
Most Beautiful Website in Ireland – Sponsored by Beaut.ie
Most Useful Website in Ireland – Sponsored by DoneDeal.ie
Most Accessible Website – Sponsored by Insure.ie
Also thank you to:
Presence PR and Lindt for the chocs, WHPR and Captain Morgan for the rum and coke. Thanks to Glowsticks Ireland for giving us a discount on the glasses, Swizzels Matlow for a nice deal on all those sweets, CSS Audio for the great help with the audio, Largo Foods for the deal on the crisps.